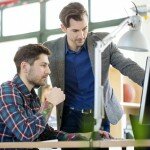 Have you ever wondered why most successful companies are successful? There can only be one answer to that: "great products coupled with great product design". Of course, there would have to be other factors as well that are at play like the company's quality of service, customer experience, marketing, but none as important as the product itself because the products are the very reason why customers are there in the first place.
For this reason, it is important that you give enough focus on product design. Try to make them as appealing as possible to attract more customers. You can make use of product designer software and other platforms related to that but in the end, your product would have to appeal to the consumers. What's more important is that your products actually work. You can enhance the appearance of your product over and over but unless it actually works, only then would consumers pile up.
Here are some effective tips for bringing out great product design as shared by Apple.
Improve on quality. There can only be improvements in your product design. What you should do is to always think of ways to improve the quality of your products in order to further strengthen their effectiveness not only in terms of application but in market performance as well.
Never be afraid of changes. Do not fear change. Have you ever noticed the changes in the Apple products over the years? There are always lots of changes, products morphing into better products. Let change be constant and improvements even more.
Always stay ahead. Always strive to be the best in your trade and never ever let go of that seat.
Never rush. You should always spend a lot of time on product design. Remember, the most effective products takes work and risks.
Learn to take risks. When your product isn't working anymore, learn to take risks. Find out what is wrong and make that the center of your improvements. Turn your flaws into assets.
Consider the customers. Every complaint, compliment and suggestion should be heard because the customers DO count. Customers know what other customers want.
Be consistent. Once you begin something, make sure to persist on it. The most successful product designs are those that are consistent, high quality, appealing and ones that actually work!