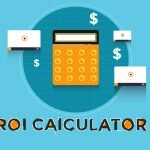 Planning a business, whatever that may be, requires a lot of research works and decision making. It's never as simple as buying a new toy for your 7-year old kid who wanted a new Iron Man action figure for his birthday. Planning a business, first and foremost, requires the willingness to take risks, the ability to gamble and most importantly, a big bank account to burn. Why is that? Whether we like it or not, planning and establishing your own business, whether it's a simple coffee shop nearby a school or a fancy restaurant by the seaside, requires a big starting capital for you to be able to lay down the fundamentals plus the fact that you will need to pay luxurious taxes and do tons of paper works. Now, how do you determine if your marketing plan for your business is actually working? Can you actually determine the success of a business just by using a marketing ROI calculator?
To begin with, yes, it's good for you and your business as a whole that you know how much your return of investment is going to be. But to depend the success of the marketing plan you are employing based on the calculations of a marketing ROI calculator alone? That is not a good business practice. Although keeping track of your ROI is good, there are other things that can determine a success of a marketing plan, of a business in general. There are other formulas which marketing experts use to determine whether or not their return of marketing investment is good enough to be a factor which can be contributed to a business' success. Businessmen and marketing practitioners alike are recommended to use other calculations such as:
(Revenue – marketing investment) / Marketing investment = will give you your return of investment
For calculating ROI using the gross profit, this formula can be used as well: (Gross profit – marketing investment) / Marketing investment
Using a marketing ROI calculator is definitely useful for any kind of business but that doesn't have to determine or failure of your business. There are other contributing factors that may lead to the success of a business.