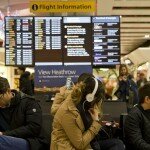 The Guardian reports how the London airspace was severely affected by a system failure on Friday. The said system failure originated from Swanwick's main national control centre.
After more than an hour of no operation, flights were able to start departure around 4:15 in the afternoon. The one hour restriction caused lengthy delays and flight cancellations to passengers arriving and departing from London's biggest airports. From 50 flights that were cancelled in Heathrow, the numbers are still increasing.
After the problem was resolved, flights resumed and operations were back to normal. The cause of the failure is still under investigation by Air traffic controller Nats. At first, power outage was assumed as the cause of the problem but it was later revealed to be computer related. The said restriction caused flight delays around hundreds of international airports and is expected to cause a domino effect even among airports far from London.
A Nats spokeswoman confirmed that the Southern UK's leading control centre for airspace, located in Swanwick, Hampshire, experienced a technical failure. They are getting the incident reports running. The exact cause is still unknown but it was confirmed to be related to technical failure.
The spokeswoman reached out to apologize for any inconvenience caused by the incident.
Last December, the same computer failure affected Swanwick's operation for almost 12 hours. Thousands of passengers were stranded then because hundreds of flights were cancelled.
Experts think that the newly updated software on the computers might be causing the glitches.
Maclean, a DMK aviation consultant, shared some of his insights. "The way the airspace is sectorised is designed to cope with this, so that if you have a glitch in one operations room, the whole of the UK is not affected. It sounds very much that it was the upper airspace sector which was affected, which means the contingency is that the London terminal area which handles the lower airspace would have taken over some of the flights."
"Because of the sheer volume of traffic, the first way that we deal with it is flow control. They simply stop all of the traffic heading for airspace. If a plane's on the ground it's not a risk. But at its most basic, controllers can still talk to the airplanes because they've got radio systems."
"Because they don't take any risks at air traffic control, they like to empty the skies. But because they have landed some planes, it shows they still have some capability."