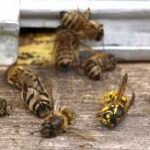 The Woollahara Municipal Council is currently receiving heat because of the residents who are not happy about their move to poison a nest in Paddington filled with bees. The result is that around 50,000 of the European honey bees were killed. This is not a usual method of pest control in Sydney as they value bees as part of the ecosystem.
Aside from the disappointed residents, a member of the advocate group Urban Beehive, Doug Purdie said that they are ways by which the hive should have been relocated. These methods are often free and will ensure that the nest from Glen Street is transferred in the proper methods.
He said that there are many people who are professionally equipped in relocating beehives thus they are confused as to the decision of the council to spray it instead. Many are frustrated because they used poison to deal with the bees.
According to a spokesperson for the council, they received a complaint coming from a local resident regarding the nest and they contacted beekeepers but none responded to their calls. They received the residents' request to handle the hive which is making them worry.
The spokesperson added that they tried contacting pest control as an alternative and the workers there said that the nest can be sprayed.
The residents said that the pest control should have conducted an assessment before deciding on the best course of action. Now, many residents are angry regarding their actions and they started an online petition which seeks justice for the 50,000 bees that were killed during the process. They are also demanding that the Woollahra Municipal Council should offer an apology as well as make a new bill which is to be called the Bee Conservation Act.
According to them, bees play a very crucial role when it comes to the ecosystem and the entire world is already facing challenges regarding the continued decline in the number of bee colonies around the globe. It is not helping if pest control in Sydney and all over the world is not taught about their importance and how to handle them in cases such as this.