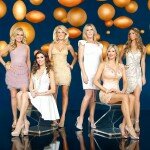 The previous season may not have been to the expectations of the fans of the reality TV show, Real Housewives of Orange County but Bravo is doing everything to make sure that Season 10 will be nothing but extraordinary. There are confirmed reports that the producer of the highly anticipated show has added two new ladies that carry shady pasts in the series.
The two new housewives are Meghan King Edmonds and Katie Chadwick Hamilton. Meghan Edmonds is the wife of Jim Edmonds, a baseball player while Katie Hamilton is Josh Hamilton, also a baseball player.
As for those who will be joining as returning cast members this coming Season 10, Bravo is yet to confirm. Sources revealed that one of the new ladies is already a familiar face to the audience. At a hoedown party which was organized by Heather Dubrow last year, Meghan Edmonds is said to have attended.
Edmonds was said to be present and was flirting with David, husband of Shannon Beador, which Shannon is not very happy about.
The question then that intrigues everyone is that, was the encounter the reason why Edmonds was brought into the show? A source confirmed that indeed, it is.
In the case of Chadwick Hamilton, there will be some revelations regarding her family's rocky past which might be revealed even before the season starts. With this in light, Bravo is excited with the two additions.
A source revealed how these two women added to the show's charisma and how they fit in with most of the cast.
To make sure that the Housewives of Orange Country stays as interesting, Bravo are finding ways to make other cast to film such as using scare tactics. This has been down with Vicki Gunvalson to make her film scenes with Brooks Ayers, her on and off boyfriend.
Other confirmed original cast member who has filmed scenes is the 59-year-old Jeana Jeough.
Bravo is sure to be filming heavy drama for the upcoming season seeing how the lawsuit between Gunvalson and Robert Williamson III is still unresolved.
All fans can do now is watch out for the season premiere.